i had a collagenight two nights ago and have just posted this collage and a few others on
my site
and in my
etsy shop
. i was inspired by a friend who recently treated herself & her daughter to disneyland for the simple reason of "why not?" --- lisa, you are my new heroine.
thank you for shaking your heads with me on the
kitty roca
(fiwa, i love that term!) issue. i figured out a solution for keeping lucy mae out of the kitty box and this just might be the kittyequivalent of a man with a paper on the toilet...which then brings me to the question of" have you ever known a girl to take more than five seconds on the loo?" we girls are busy and have real shit to do.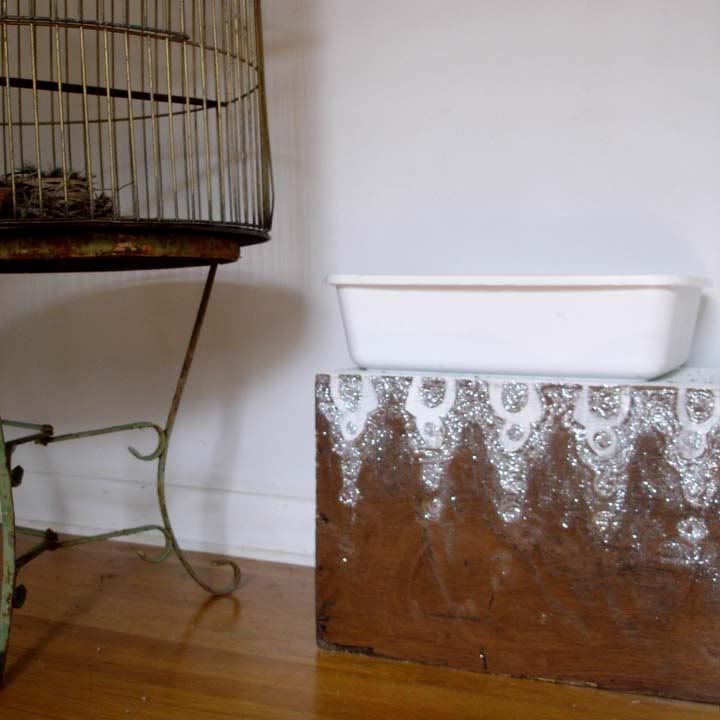 (and before anyone gets their panties in a wad about cats being too close to a birdcage, the birds are fake.)
okay, so i am officially more excited about the premiere of
la ink
on august 7 on tlc than any catfight on vh1. check out
kat's tattoo portfolio
...she has always been my favorite tattoo artist, but can i get a 'hot dammmmmn'?
please bookmark my
sewn
, too. i will be adding more urban aprons on there as well.
so, in celebration of a kittyroca free floor , i am doing a drawing for a funtreat (a nonkittyroca one, trust me.) on this post. leave a comment (if anonymous, that's cool, just sign your name on it.) on this post. yes, the one that you are reading right now. i will draw a name in a week from today.
have a great weekend and go get a new lipgloss. you deserve it.