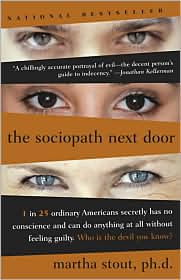 i just finished the sociopath next door
by dr. martha stout
and it is such a fascinating read.
to keep the blinders off our life-enhancing seventh sense, as with most improvements in the human condition, we must start with our children. a part of healthy conscience is being able to confront consciencelessness. when you teach your daughter, explicitly or by passive rejection, that she must ignore her outrage, that she must be kind and accepting to the point of not defending herself or other people, that she must not rock the boat for any reason, you are not strengthening her prosocial sense; you are damaging it---and the first person she will stop protecting is herself. cox, stabb, and bruckner (
women's anger: clinical and developmental perspectives
) argue emphatically that "the requirement to suppress outrage at the other robs the woman of an opportunity to develop this kind of autonomy." instead, as lyn mikel brown has said, we need to suggest "the possibility, even under the most oppressive conditions, for creative refusal and resistance."
this passage above really spoke to me and i wanted to have it in my journal. i think every girl should be required to take a course in women's studies by 9th grade and that they should retake it again later as a refresher course or when they have a daughter of their own. it is never too late.