on my morning survey of the garden, i found my first pineapple guava blossoms!
years ago, i had bought some tiny seeds of pineapple guava on ebay. i planted them in little pots & said a prayer. later, i transferred them to my garden beds.
growing trees by seed is one of those things that you try to do the right thing and hope you can forget about them a bit to avoid overobsessing for the years to come.
i am so freaking psyched that i can't stand it. will i get fruit?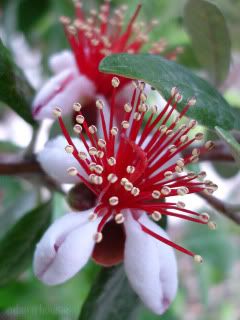 yesterday, i was so tired of my hair that i got the buzzshears out
and buzzed it all off. i so freakin love it & i can maintain the cut myself.